Her Majesty Queen Elizabeth II
Queen Elizabeth II was born as Elizabeth Alexandra Mary, the first child of Prince Albert, Duke of York, and his wife, formerly Lady Elizabeth Bowes-Lyon, on 21 April 1926 in London, England. The Queen was the queen of the United Kingdom of Great Britain and Northern Ireland and 15 countries in the Commonwealth, in addition to the head of the Commonwealth.

In December 1936, her grandfather King George V died, and her uncle became Edward VIII, who abdicated in a short reign of 327 days. Her father then became King George VII. On 20 November 1947, she married a distant cousin, Lieutenant Philip Mountbatten, who was born Prince Philippos of Greece and Denmark on 10 June 1921. He assumed the anglicized surname Mountbatten, the German family name of Battenberg of his mother. Before the marriage, Philip had renounced his claim to the Greek throne and his Greek citizenship, and King George VI bestowed Philip the styles of Duke of Edinburgh and His Royal Highness.

On 6 February 1952, King George VI suddenly died of lung cancer, while Elizabeth and Philip were visiting Kenya. She returned home immediately and she ascended to the throne as Queen Elizabeth II. Subsequently she was crowned at Westminster Abbey on 2 June 1953. Philip received the British title of Prince from the Queen in 1957. He was officially known as Prince Philip, Duke of Edinburgh.

After 73 years of marriage, Prince Philip died on 9 April 2011. On 6 September 2022, The Queen met Liz Truss and appointed her the 15th British prime minister at the Balmoral Castle in Aberdeen, Scotland. Suddenly, she died at peace at the Balmoral Castle on 8 Septmeber 2022.
Notable Years:
Coronation - 2 June 1953
Silver Jubilee (25th Anniversary) of her coronation - 1977
Golden Jubilee (50th Anniversary) of her coronation - 2002
Diamond Jubilee (60th Anniversary) of her coronation - 2012
Platinum Jubilee (70th Anniversary) of her coronation - 2022
Her 60th birthday - 1986
Her 80th birthday - 2006
Her 90th birthday - 2016
Wedding of the Queen and Prince Philip - 2 November 1947
Birth of her first child, Charles, in 1948
Diamond Wedding (60th Anniversary) of The Queen and Prince Philip - 2007
---
1952 Portraits
The first official photographs of the Queen taken after the 1952 accession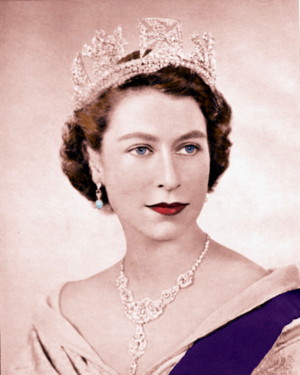 Left:
The Queen wears a diamond necklace, a wedding present from the Nyzam of Hyderbad,
and a diamond and pearl circlet which was first worn by Queen Victoria.
Right:
The Queen wears a strapless gown of black taffeta, and a diamond necklace,
a 21st birthday gift from South Africa. (Photographer: Dorothy Wilding).
Note:
The portraits were digitally enhanced by using two black-and-white photographic prints (Artist: Gordon Li).
---
1976 Photographs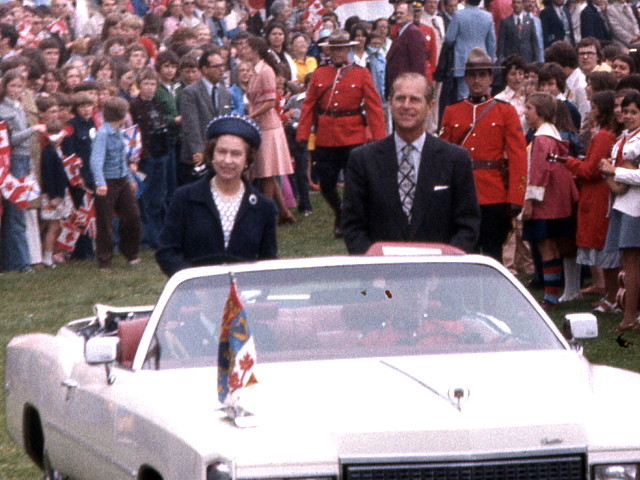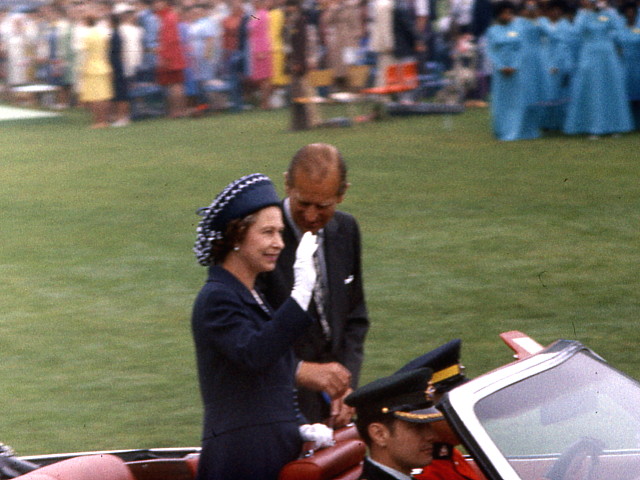 Folk and Music Festival at Saint Mary's University, Halifax, Nova Scotia
During the visit to open the Summer Olympic Games in Montreal (Photographer: Gordon Li)
2006 Photographs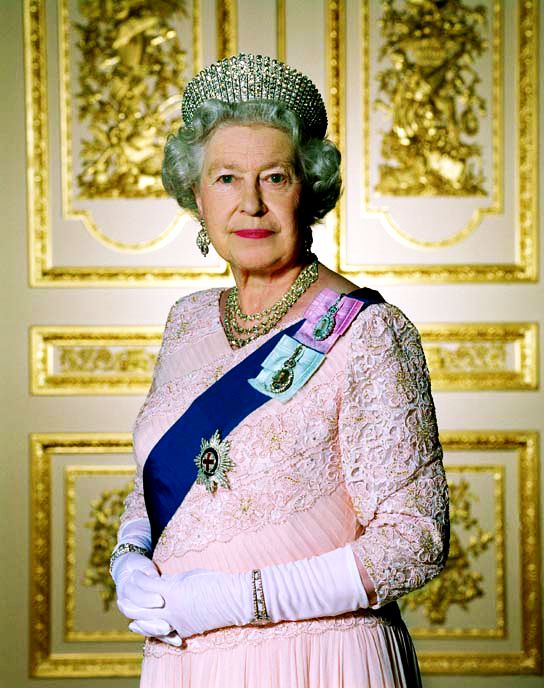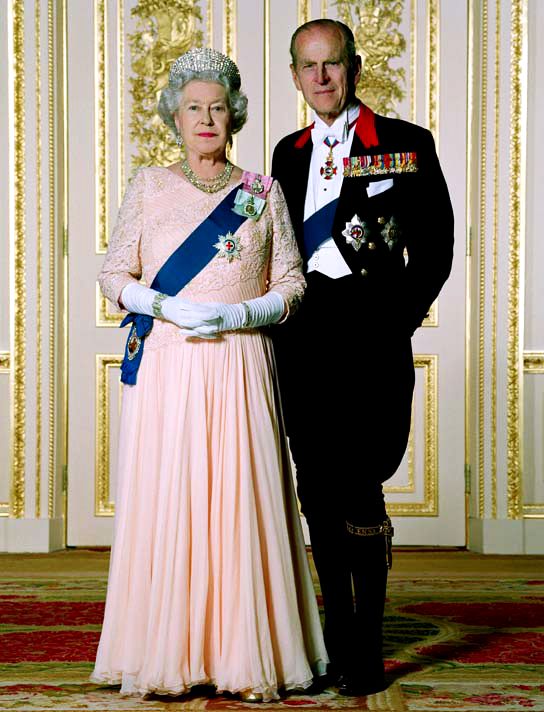 Official photographs taken for the 80th birthday of the Queen
(Copyright of the photographs: John Swannell/Camera Press)
2015 Photograph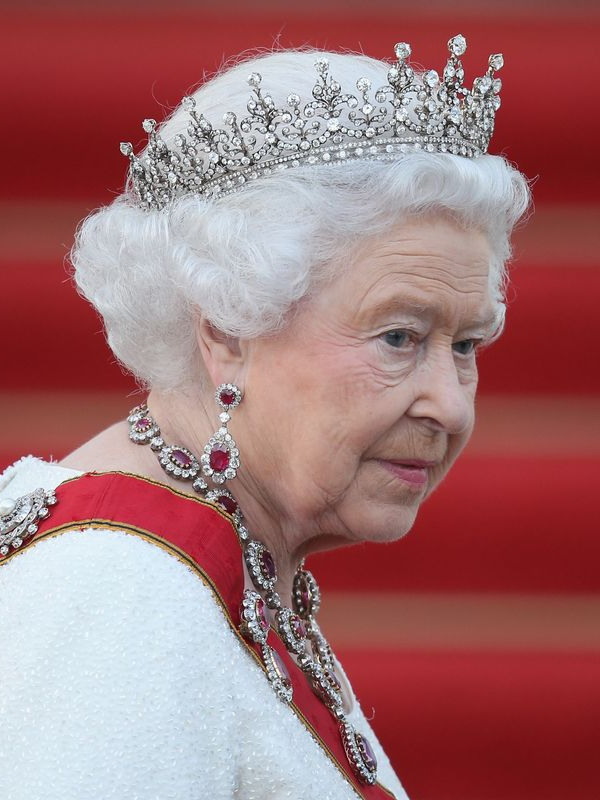 At a state banquet in her honor in Berlin June 2015)
(Copyright of the photograph: Sean Galup/Getty Images)
---
Memorabilia
Souvenir Plate for the Celebration of the Reign of King Edward VII
Edward VII was the son of Queen Victoria and reigned from 1901 to 1910. His wife was Princess Alexandra of Denmark. He was the great grandfather of Queen Elizabeth II. Edward VII was the King of England and also the Emperor of India. The British Empire extended to the greatest boundaries in his reign.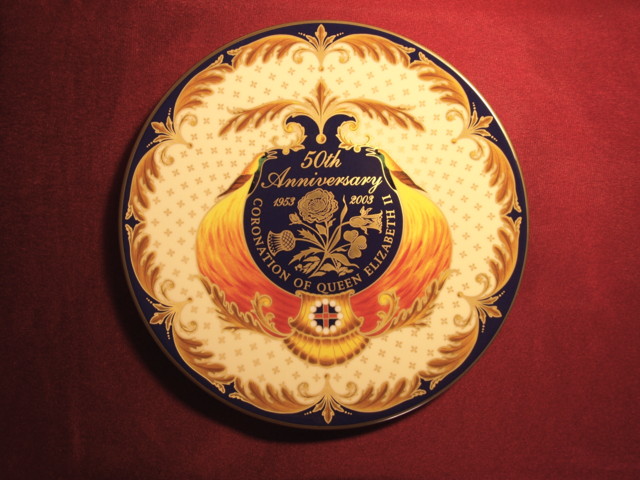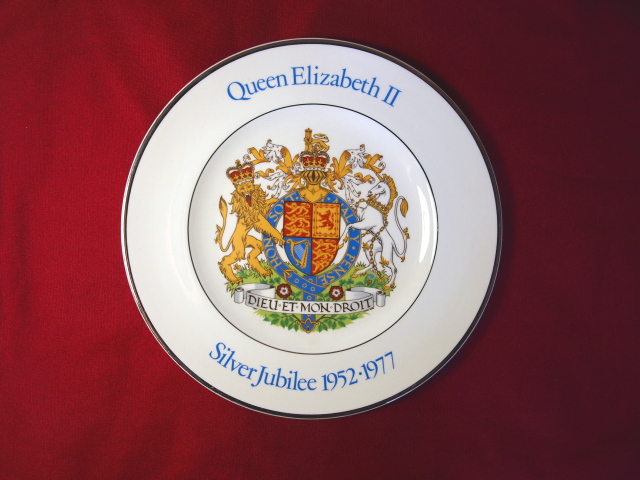 Left:
2003 Plate - Golden Jubilee of Coronation. Made by Royal Worcester for Royal Mint
Right:
1977 Plate - Silver Jubilee of Coronation of the Queen. Made by Wood & Sons, England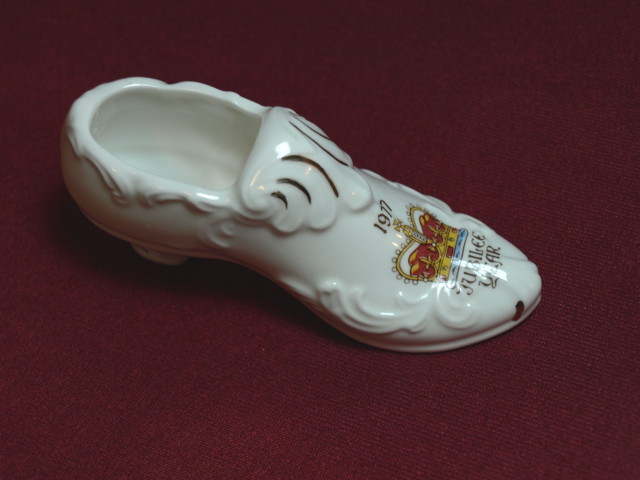 1977 Porcelain — Silver Jubilee of Coronation
Coronation Coin Set — 24 silver proof coins, some highlighted in gold (Royal Mint)
Diamond Jubilee Stamps (Canada)
| | |
| --- | --- |
| | |
| The Young Queen (1952-1962) | A Centennial to Celebrate (1963-1972) |
| | |
| A Multitude of Milestones (1973-1982) | Breaking Barriers & Pushing Boundaries (1983-1992) |
| | |
| A Monarch for a New Millennium (1993-2002) | A Shining Legacy (2003-2012) |
---
Slides
The 151st Queen's Plate, Toronto, 2010
: [
click
]
The 1976 visit of
Queen Elizabeth II
and
Prince Philip
at Saint Mary's University to attend a folk festival: [
click
]
Videos
Royal Visit at The 151st Queen's Plate, 2010
[
Part One
]
[
Part Two
]
[
Part Three
]
[
Part Four
]
Queen's First Televised Broadcast at Christmas, 1957
: [
click
]
The Queen's Diamond Jubilee Concert, London, 4 June 2012
: [
click
]
---
Copying, distribution or re-use of any materials are not permitted without prior permission.
In particular (1) Crown Copyright Protected or Governmental materials and (2) Copyrighted Photographs.
---
Links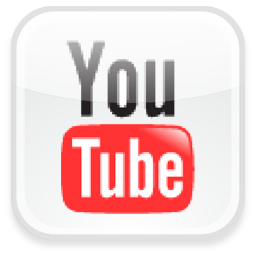 e-mail to:

[
Top
|
Middle
]
of Page