A Vegetarian Recipe of Shepherd's Pie
Ingredients
Topping
8-10 medium potatoes (1.5 lb//0.7kg), peeled and diced
1/3 cup (80 ml) vegetarian oil
4 tbsp (60 ml) skim-milk powder or grated Parmesan cheese powder
2 tps salt; ground black pepper to taste
Meat Substitute
16 oz (450 g) red lentils
10 oz (280 g) Burgol, fine to medium
10 oz (280 g) pearl wheat
1/2 cup (125 ml) dried Desi chickpeas, soaked for 2 hours
5 oz (140 g) whole wheat couscous
5 oz (140 g) quick rolled oats
1/2 cup (120 ml) vegetarian oil; 2 tbsp (30 ml) olive oil
1 tbsp (15 ml) soy sauce (optional) and/or
2 tsp (10 ml) Marmite or Vegemite yeast extract (optional), mixed in 2 tbsp water to make a broth
salt and sugar, to taste
Seasonings
2 tsp dried rosemary
2 tsp dried thyme
2 tsp dried oregano
1 tsp dried ground sage (optional)
0.5 tsp chili pepper (optional)
1/3 cup (80 ml) shredded cheddar cheese (optional)
Vegetables
1 cup (250 ml) frozen green beans
1 cup (250 ml) frozen whole kernel corns
2 medium onions, finely chopped
1 large carrot, finely chopped
1 tbsp (15 ml) tomato paste
Preparation
1. Place the potatoes in a large pot of water. Add salt to water. Bring to boil and cook for 20 minutes.
2. Drain water and cool a bit.
3. Add oil, black pepper, milk or cheese powder while mashing the potatoes.
4. If the potatoes become dry, add some fresh water. Generally, the boiled potatoes have enough moisture already.
5. Mash the potatoes to creamy and smooth. Place aside for later use.
6. Place lentils, Burgol, pearl wheat and chickpeas in another large pot of water.
7. Boil and cook the grains to 30 minutes or to tender.
8. Cool a bit and pour out the hot water, so the cooked grains are basically just moist.
9. Add the couscous and the oats to the grains.
10. Add the soy sauce, Marmite broth, tomato paste; then half of the vegetarian oil.
11. Mix well; remove from the heat; put the grains aside.
12. Use a very large frying pan (can use a wok).
13. Pour in the other half oil and the olive oil.
14. Heat the oil to high heat. Add the onions and garlic to simmer for 1-2 minutes.
15. Place the carrots and the grain mixture in the pan. Lower the heat to medium and continue to cook.
16. Mix in all seasonings, and then the green peas.
17. Add sugar and salt to taste.
18. Remove the pie filling mixture from the heat.
19. Finally, place the mixture in a large casserole pan (13 inch/33 cm long).
20. Lay a thin layer of the corns at the top.
21. Spread the mashed potatoes over the top of the corns and filling.
22. Place the casserole in a preheated oven. Bake at 400F/200C for 20 minutes.
23. Sprinkle the cheddar cheese at the top.
24. Continue to bake for another 5-10 minutes, or until the cheese melts and the potatoes become slightly browned.
Make 8 to 10 servings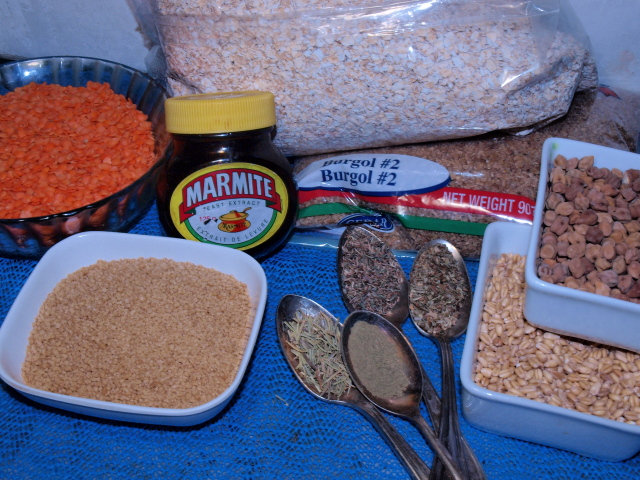 Notes
[1] The recipe is based on a vegan recipe published in PetA magazine/
Simple Recipes for Joy
by Sharon Gannon, published by Avery Books, 2014 and several other traditional recipes.
[2] Use of less vegetarian oil and milk/cheese powder may make the pie less fattening.