A Quick Kimchi Recipe
Since 2009, I had been experimenting with Kimchi recipes after watching several Kimchi preparation videos and reading some recipe articles, recently I used the following recipe. The main difference from the original Korean recipe is the application of salt into the Nappa cabbage. Originally, coarse salt is rubbed into the leaves of the cabbage without cutting the vegetable, but it needs more time to remove the extra saltiness. Then, a paste is often prepared to mix the other ingredients into the cabbage. The paste is a mix of other ingredients and some rice flour, and the paste is cooked slightly. Fish sauce and anchovy pieces are often included, and rice wine may be sometimes added to give a richer flavour.

Here, I use some water to make a brine and less rinsing. Then, the other ingredients are directly mixed to the cabbage. Also, less chilli is used here.


Ingredients
1 large head of Nappa cabbage
1 small white radish, sliced into 2 inch sticks
3 green onions,, sliced into 2 inch sticks
10 cloves of peeled garlic, grated
a sheet of dried seaweed/laver, crumbled or cut into pieces
1 tsp Indian chilli powder
1 small finger of fresh ginger, grated (or 1 tbsp ginger powder)
1 tbsp fresh or dried chilli pepper, coarsely chopped
(Option: use a red chilli paste that can be bought in many oriental grocery store)
2/3 cup (180 ml) white sugar
2/3 cup fine sea salt
Clean tap water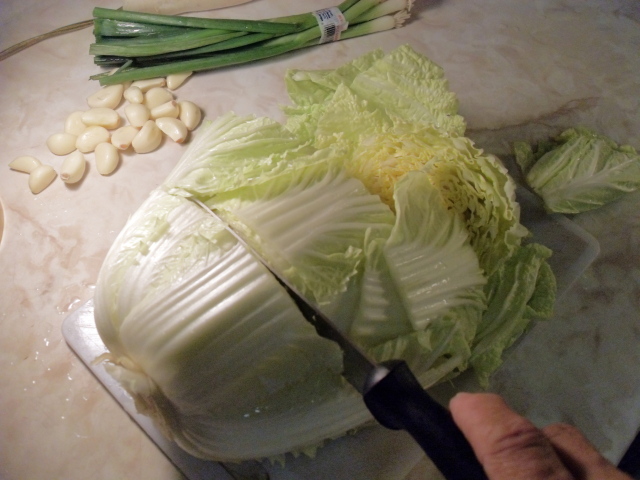 Preparation
1. Cut the cabbage into 2 inch slices. 2. Place the loose cabbage in a large container.
3. Mix the salt into the cabbage leaves.
4. Pour water to slightly cover the cabbage and soak for 4-6 hours at room temperature.
5. Pour out the salt water and soak the cabbage into fresh tap water for a couple of times.
6. You can eat a piece of the cabbage to check the saltiness. If too salty, soak the cabbage to remove some saltiness. Otherwise, pour out the water and hand squeeze out excess water from the cabbage.
7. Mix in the radish, green onions, garlic, chilli, ginger, seaweed and sugar.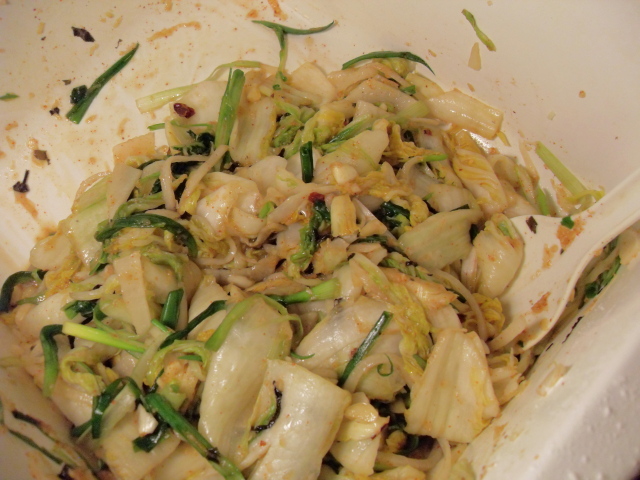 8. Pack the cabbage mix in two large mason jars (1 litre or 32 oz size); leave a 1-inch space at the top.
9. Leave the covered jars at room temperature to ferment for at least 6-8 hours (or overnight).
10. The Kimchi is ready to serve.
11. In a refrigerator it can be kept fresh to 1-2 weeks.
[
Top
|
Bottom
of Page]
OTHER RECIPES
[1] A simple recipe was released on First Lady Michelle Obama's Twitter account (2013)
(http://obamafoodorama.blogspot.ca/2013/02/a-new-white-house-recipe-simple-kimchi.html)
Ingredients
2 Heads Napa Cabbage, washed
1 Cup Kosher Salt
1 TBSP Fish Sauce, any brand (could skip for a vegetarian)
1 TBSP Minced Fresh Ginger
4 Cloves Garlic, minced
1 TBSP Turbinado Sugar
1 Small White Radish, sliced paper thin
1 Bunch Scallion, sliced
5 Thai Chilies, or 5 TBSP Korean Dried Chili Powder
Method
1. Cut the Napa Cabbage into 1-inch slices. Place in a large bowl and sprinkle with the Kosher salt.
Mix with your hands and set aside in the refrigerator overnight.
2. Rinse the salt from the leaves and squeeze [out] as much moisture or excess liquid [as you can].
[In a bowl], mix in the rest of the ingredients [with the cabbage].
Place in an airtight jar (mason jar works well) and store in the refrigerator.
3. The pickle should be ready in about four days.
[2] A recipe from a Chinese Newspaper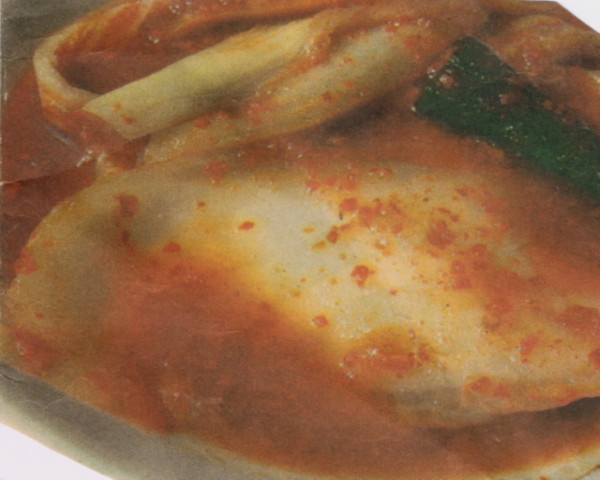 Ingredients
1 head Nappa cabbage
1 small whiter radish, sliced thin
10 cloves garlic, minced
Fresh ginger (25g), minced
2/3 cup (180ml) fish sauce
Thai or Vietnamese chilli powder
1.6 cup (450ml) sugar
Sea salt and water to a make a brine
Optional:
1 small carrot, 1 small onion (225g), 1 small pear (150g), 1 small apple (150g).
Method
1. Cut the washed cabbage into four portions. Place the cabbage in a bowl. Cover the cabbage with the brine and soak up to 8 hours.
2. Preparation of paste - mix minced garlic, ginger, chilli powder, sugar, fish sauce another bowl
(Option: mix in finely chopped carrot, onion, pear and apple).
3. Pour out the brine from the cabbage bowl and squeeze out excess solution.
4. Mix the paste into the cabbage and sliced radish.
5.Place the loosely covered bowl at room temperature for another 8 hours.
6. Refrigerate the cabbage mix overnight, and it is then ready to eat.